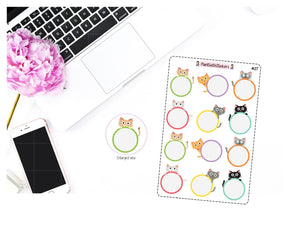 PlanItWithStickers
027 - Cute Kitty Cat Sign Stickers for , Plum Paper, Recollections, and similar planners
Regular price
$5.00
$0.00
Includes one 4x7 sheet (12 stickers) of various cute kitty sign stickers to use in your planner!
Perfect for documenting something special that happened that day, someone's birthday, or just to add a little bit of extra cuteness to your layout!
Size: 1.2 inch by 1.5 inch
Stickers sized to fit in your and will also work for other similar sized planners.
Stickers are printed on non-removable, premium matte paper.
Purrfect
OMG! I am obsessed with these kitty stickers! The problem is I'm using them up too fast and going to have to order more right away! LOL
Cute as a bug
I found this on my IG feed, I am so happy with my purchase and will definitely buy more! Took a bit to get in my mailbox but totally worth the wait. My Budget planner looks great
Thank you
From Austin Texas USA
Purrfect
OMG! I am obsessed with these kitty stickers! The problem is I'm using them up too fast and going to have to order more right away! LOL
Cute as a bug
I found this on my IG feed, I am so happy with my purchase and will definitely buy more! Took a bit to get in my mailbox but totally worth the wait. My Budget planner looks great
Thank you
From Austin Texas USA